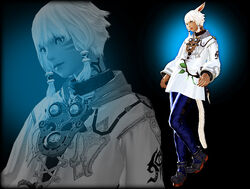 This beautiful and enigmatic Miqo'te is often seen wandering the lands of La Noscea. Her mastery of the arcane arts and conversance with ancient tongues mark her as far more than a simple traveler.
External links
Edit
Ad blocker interference detected!
Wikia is a free-to-use site that makes money from advertising. We have a modified experience for viewers using ad blockers

Wikia is not accessible if you've made further modifications. Remove the custom ad blocker rule(s) and the page will load as expected.