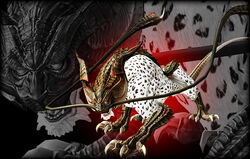 These predatory quadrupeds are feared for their unrivaled savagery. In the same manner as its close cousin, the coeurl, the torama subdues its prey by unleashing electrical shocks from the two whip-like appendages that frame its fang-lined jaws.
External links
Edit
Ad blocker interference detected!
Wikia is a free-to-use site that makes money from advertising. We have a modified experience for viewers using ad blockers

Wikia is not accessible if you've made further modifications. Remove the custom ad blocker rule(s) and the page will load as expected.