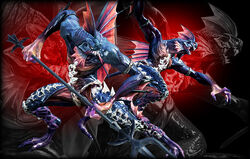 This aquatic race of beastmen reside in a city built at the bottom of the Indigo Deep. Known for attacking ocean-faring ships and dragging sailors screaming into the murky depths, the Sahagin are often the subject of angry and fearful curses on the streets of Limsa Lominsa. Since the advent of the Seventh Umbral Era, these hostile denizens of the sea have taken to seizing territory along the Vylbrand coastline in order to establish new spawning grounds.
External links
Edit
Ad blocker interference detected!
Wikia is a free-to-use site that makes money from advertising. We have a modified experience for viewers using ad blockers

Wikia is not accessible if you've made further modifications. Remove the custom ad blocker rule(s) and the page will load as expected.