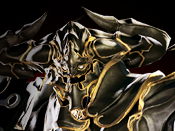 Though native to a territory subjugated by the Empire, Rhitahtyn nevertheless serves as praefectus castrorum of the XIVth Imperial Legion.
The Roegadyn was awarded the rank by Gaius van Baelsar himself, the legatus more interested in recognizing the mercenary's exceptional martial prowess than the origin of his birth. Rhitahtyn wields a unique gunshield named Tartarus.
External links
Edit
Ad blocker interference detected!
Wikia is a free-to-use site that makes money from advertising. We have a modified experience for viewers using ad blockers

Wikia is not accessible if you've made further modifications. Remove the custom ad blocker rule(s) and the page will load as expected.