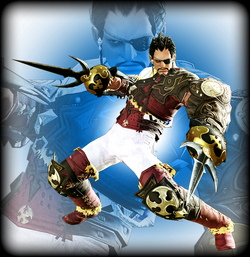 Pugilists start their adventures in Ul'dah.
The path of the pugilist is one of incessant training aimed at mastering the traditional techniques of hand-to-hand combat. Though pugilists command formidable power when unarmed, they are ones to use metal, leather, and bone weaponry to maximize their destructive potential.
Their preference for fighting at close quarters makes negotiating distances an absolute necessity. Many among them accomplish this by avoiding burdensome armor, allowing for maximum mobility while they move in for the kill.
External links
Edit
Ad blocker interference detected!
Wikia is a free-to-use site that makes money from advertising. We have a modified experience for viewers using ad blockers

Wikia is not accessible if you've made further modifications. Remove the custom ad blocker rule(s) and the page will load as expected.