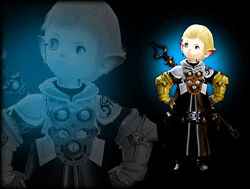 This Lalafellin youth wields the powers of a thaumaturge, and is highly knowledgeable in the field of aether. Papalymo's childlike features, typical of his race, bely a biting cynicism that often puts him at odds with the perpetually cheerful Yda, the companion with whom he roves the Black Shroud.
External links
Edit
Ad blocker interference detected!
Wikia is a free-to-use site that makes money from advertising. We have a modified experience for viewers using ad blockers

Wikia is not accessible if you've made further modifications. Remove the custom ad blocker rule(s) and the page will load as expected.