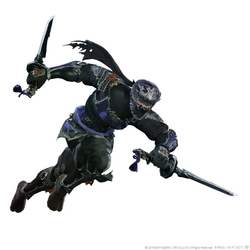 Hailing from the war-torn lands of the Far East, the secret arts of the ninja were born of necessity, and have since given rise to a unique breed of highly-trained combatants.
Able to manipulate the vital energies of the land, the air, and living beings, they manifest their power through the weaving of signs, unleashing a wide array of attacks against their foes. Master the arts of the ninja and learn to bend the tide of battle to your will.
External links
Edit
Ad blocker interference detected!
Wikia is a free-to-use site that makes money from advertising. We have a modified experience for viewers using ad blockers

Wikia is not accessible if you've made further modifications. Remove the custom ad blocker rule(s) and the page will load as expected.