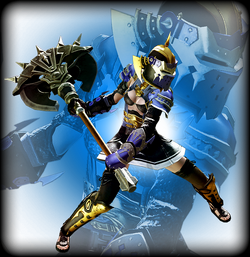 Marauders start their adventures in Limsa Lominsa.
Marauders are combat specialists whose weapon of choice is the greataxe — a fearsome arm long associated with Eorzea's pirates. Their approach to battle is one of brute force, as they rely on pure strength and good steel to crush enemies and sunder weapons.
They are highly sought after for their ferocity and intimidating presence, and are often employed to hunt down monsters plaguing the land or to turn the tide of battle between warring nations. Skilled marauders have been known to take on entire packs of slavering beasts and emerge with little more than a few scrapes and bruises.
External links
Edit
Ad blocker interference detected!
Wikia is a free-to-use site that makes money from advertising. We have a modified experience for viewers using ad blockers

Wikia is not accessible if you've made further modifications. Remove the custom ad blocker rule(s) and the page will load as expected.