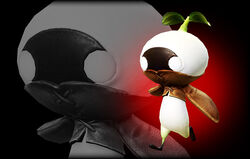 The enigmatic mandragora were first observed in the aftermath of the Seventh Umbral Era. It is not known whence they came, or if they even existed prior to the Calamity. There are those who insist that the diminutive seedkin are sentient, but further research is required to confirm such speculation.

External links
Edit
Ad blocker interference detected!
Wikia is a free-to-use site that makes money from advertising. We have a modified experience for viewers using ad blockers

Wikia is not accessible if you've made further modifications. Remove the custom ad blocker rule(s) and the page will load as expected.