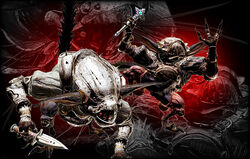 The kobolds are a race of mole-like creatures who have excavated a warren of tunnels beneath O'Ghomoro, a mighty peak rising in northern Vylbrand.
Believing the ores of the earth to be a gift of the primal Titan, these subterranean beastmen seek to divine their deity's teachings through the arts of alchemy and metallurgy. Despite forging a peace agreement with Limsa Lominsa, recent conflicts over mineral deposits have led to a resurgence of hostilities.
External links
Edit
Ad blocker interference detected!
Wikia is a free-to-use site that makes money from advertising. We have a modified experience for viewers using ad blockers

Wikia is not accessible if you've made further modifications. Remove the custom ad blocker rule(s) and the page will load as expected.