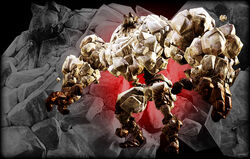 Golems are magical constructs of clay or stone that have been imbued with temporary life. Ancient tomes claim that the creation of these beings is only possible when the laws of nature are weakened by the chaotic influence of an Umbral calamity.
External links
Edit
Ad blocker interference detected!
Wikia is a free-to-use site that makes money from advertising. We have a modified experience for viewers using ad blockers

Wikia is not accessible if you've made further modifications. Remove the custom ad blocker rule(s) and the page will load as expected.