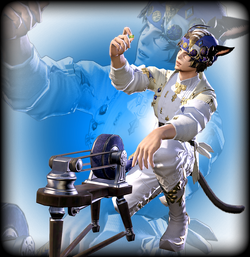 Goldsmiths work precious metals and stones into a multitude of accessories that appeal to the Eorzean aesthetic. Their wide-ranging finery, painstakingly fashioned from delicate metals and gemstones, can be see adorning the ears, fingers, and necks of the distinguished everywhere.
Ul'dahn goldsmiths always have a ready supply of raw materials, owing to the vast mineral resources of Thanalan. Due to the high value of these resources, however, most artisans also make it their business to stay abreast of market trends.
External links
Edit
Ad blocker interference detected!
Wikia is a free-to-use site that makes money from advertising. We have a modified experience for viewers using ad blockers

Wikia is not accessible if you've made further modifications. Remove the custom ad blocker rule(s) and the page will load as expected.