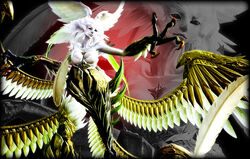 The queen of storms, Garuda is the chosen primal of the Ixal.
Though elegant of form and graceful in motion, the capricious and ruthless nature of this bloodthirsty being engenders mindless terror even amongst her devoted worshippers. Her wrath often erupts without warning, and descends upon her victims with unbridled fury.
External links
Edit
Ad blocker interference detected!
Wikia is a free-to-use site that makes money from advertising. We have a modified experience for viewers using ad blockers

Wikia is not accessible if you've made further modifications. Remove the custom ad blocker rule(s) and the page will load as expected.