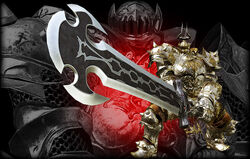 While commonly considered to be a variety of ancient golem, the exact nature of these hulking suits of animated armor is unknown. One theory suggests that they once clad men, and that the original wearer's soul lingered on after death, doomed to spend the afterlife in a prison of steel.
External links
Edit
Ad blocker interference detected!
Wikia is a free-to-use site that makes money from advertising. We have a modified experience for viewers using ad blockers

Wikia is not accessible if you've made further modifications. Remove the custom ad blocker rule(s) and the page will load as expected.