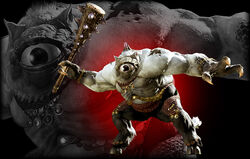 The cyclops dwell in the western parts of Abalathia's Spine, and are immediately recognizable by the single eye that dominates their broad faces. Though thickly muscled and possessed of prodigious strength, these dim-witted creatures are often enslaved and used as shock troops by the more cunning beast tribes.

External links
Edit
Ad blocker interference detected!
Wikia is a free-to-use site that makes money from advertising. We have a modified experience for viewers using ad blockers

Wikia is not accessible if you've made further modifications. Remove the custom ad blocker rule(s) and the page will load as expected.