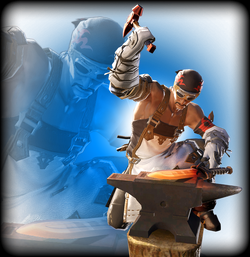 It is in the fires and on the anvils of blacksmiths that weapons and tools of metal are crafted. Their work is in demand far and wide, whether it be hammering the blade of a sword at the forge, or whetting the edge of an axe at camp.
Limsa Lominsa has been renowned for its blacksmithing tradition since antiquity, though the advanced metallurgical techniques passed on today bear little resemblance to the simple practices of ancient times. The relatively recent birth of firearms has created an entirely new area of expertise which is being adopted with fervor by many ambitious smiths.
External links
Edit
Ad blocker interference detected!
Wikia is a free-to-use site that makes money from advertising. We have a modified experience for viewers using ad blockers

Wikia is not accessible if you've made further modifications. Remove the custom ad blocker rule(s) and the page will load as expected.