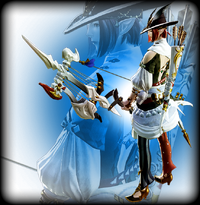 The word "bard" ordinarily puts folk in mind of those itinerant minstrels, fair of voice and nimble of finger, who earn their coin performing in taverns and the halls of great lords. Few know, however, that bards in fact trace their origins back to the bowmen of old, who sang in the heat of battle to fortify the spirits of their companions.
In time, their impassioned songs came to hold sway over the hearts of men, inspiring their comrades to great feats and granting peace unto those who lay upon the precipice of death.
External links
Edit
Ad blocker interference detected!
Wikia is a free-to-use site that makes money from advertising. We have a modified experience for viewers using ad blockers

Wikia is not accessible if you've made further modifications. Remove the custom ad blocker rule(s) and the page will load as expected.