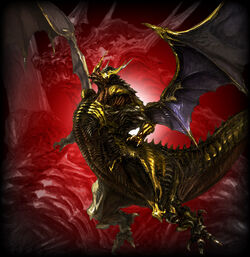 Held in duress for aeons within the lesser moon, Dalamud, the elder primal Bahamut broke free of his captivity when the celestial body was wrested from the heavens to descend upon the Battle of Carteneau. Once freed, the terrible being wrought fiery destruction across the length and breadth of Eorzea, his devastating rampage marking the beginning of the Seventh Umbral Era. In the midst of the chaos, however, Bahamut was enveloped in a blinding white light and abruptly disappeared from the skies. None claim to have seen the primal in the five years since.
External links
Edit
Ad blocker interference detected!
Wikia is a free-to-use site that makes money from advertising. We have a modified experience for viewers using ad blockers

Wikia is not accessible if you've made further modifications. Remove the custom ad blocker rule(s) and the page will load as expected.