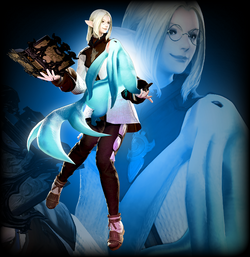 Arcanists start their adventures in Limsa Lominsa.
Adepts of the art of arcanum derive their might from symbols of power born of geometric techniques hailing from across the southern seas. Held within occult grimoires, these symbols lend shape to the arcanist's aether, thereby allowing him to produce myriad powerful spells.
Using the selfsame symbols to unlock the latent power contained within gemstones, arcanists are also able to summon forth the familiar known as Carbuncle to carry out their bidding.
Job Souls
Edit
Arcanist can use two job souls. The Scholar , Which is the healer style job, and Summoner , which is the damage job.
Class Quests
Edit
External links
Edit
Ad blocker interference detected!
Wikia is a free-to-use site that makes money from advertising. We have a modified experience for viewers using ad blockers

Wikia is not accessible if you've made further modifications. Remove the custom ad blocker rule(s) and the page will load as expected.