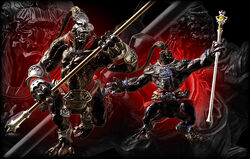 The hulking Amalj'aa are a race of nomadic beastmen who inhabit the grasslands of Paglth'an, where they subsist by hunting the native wildlife. These worshippers of the primal Ifrit believe that the region of Thanalan has been purified by sacred flame. In their efforts to reclaim this holy land, Amalj'aa warriors have clashed time and again with the forces of the sultanate of Ul'dah.
External links
Edit
Ad blocker interference detected!
Wikia is a free-to-use site that makes money from advertising. We have a modified experience for viewers using ad blockers

Wikia is not accessible if you've made further modifications. Remove the custom ad blocker rule(s) and the page will load as expected.