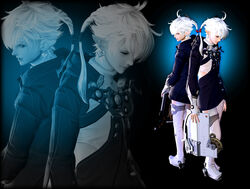 A self-assured young man and his strong-willed twin sister, recently come to Eorzea in pursuit of an unknown agenda. In spite of their tender years, the two carry themselves with an air of unwavering purpose.
External links
Edit
Ad blocker interference detected!
Wikia is a free-to-use site that makes money from advertising. We have a modified experience for viewers using ad blockers

Wikia is not accessible if you've made further modifications. Remove the custom ad blocker rule(s) and the page will load as expected.