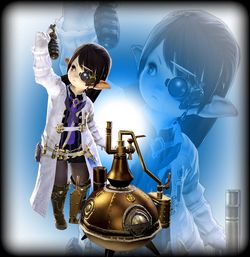 Masters of Science and Nature, the devilish and the divine, alchemists ensure their livelihood through the transmogrification of mundane materials into wondrous waters─from curative concoctions to potent potables.
The Ul'dahn school only recently came to be recognized in scientific circles as a valid branch of alchemical orthodoxy. It is based on fundamental principles originating in the Near East tradition, but draws heavily upon esoteric elements of both Lalafellin herbalism and Miqo'te occultism as well.
Alchemy, originally derived from the Ancient Greek word khemia (Χημία) meaning "art of transmuting metals", later arabicized as al-kimia (الكيمياء), is both a philosophy and an ancient practice focused on the attempt to change base metals into gold, investigating the preparation of the "elixir of longevity", and achieving ultimate wisdom, involving the improvement of the alchemist as well as the making of several substances described as possessing unusual properties. The practical aspect of alchemy generated the basics of modern inorganic chemistry, namely concerning procedures, equipment and the identification and use of many current substances.
Alchemy has been practiced in Mesopotamia (comprising much of today's Iraq), Egypt, Persia (today's Iran), India, China, Japan, Korea and in Classical Greece and Rome, in the Post-Islamic Persia, and then in Europe up to the 20th century, in a complex network of schools and philosophical systems spanning at least 2500 years.
External links
Edit
Ad blocker interference detected!
Wikia is a free-to-use site that makes money from advertising. We have a modified experience for viewers using ad blockers

Wikia is not accessible if you've made further modifications. Remove the custom ad blocker rule(s) and the page will load as expected.